Corneal Transplants
Dr. Russell LeBoyer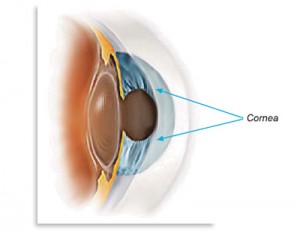 is a fellowship trained corneal surgeon who performs the corneal transplant called DSAEK (Descemets Stripping Endothelial Keratoplasty).  He is one of the few eye surgeons in the Chicago area performing this new corneal transplant.  See below for more information or call one of our offices located in Skokie and Highland Park, IL.
Corneal transplantation, or keratoplasty, is recommended after exhausting all possible non-surgical therapies. Surgery may be indicated due to an irregular corneal curvature that is not correctable with glasses or contact lenses, or when infection, scarring or swelling has caused sufficient damage to impede vision. Corneal transplantation may be either full thickness (Penetrating Keratoplasty) or partial thickness (Lamellar Keratoplasty). Decisions regarding which procedure is required are often dependent on the depth of corneal pathology. Recent surgical and technological advances have allowed partial thickness surgery such as Descemet's Stripping Endothelial Keratoplasty (DSAEK) to gain popularity as a successful alternative to full thickness transplants for conditions such as Fuch's corneal dystrophy, and pseudophakic bullous keratopathy (PBK). Common conditions that may require transplantation are:
Fuch's Corneal Dystrophy
Bacterial or Fungal Keratitis
Severe Corneal Ulceration
Herpes Simplex Virus (HSV) Keratopathy
Pseudophakic Bullous Keratopathy (PBK)
Keratoconus
Corneal Dystrophies
Traumatic injury
Ocular surface diseases
Chemical burns
Corneal Scarring
Procedure:
Corneal transplantation involves removing the damaged or diseased cornea, and replacing it with a clear, healthy donor cornea. In partial thickness endothelial keratoplasty (Descemet's Stripping Endothelial Keratoplasty – DSEK), only the deep layer of the cornea containing the vitally important endothelial cells is transplanted. The donor cornea is held in place with an air bubble inside the eye. The air bubble usually dissipates within the first 48 hours after surgery leaving the donor cornea in the correct position. Unlike PK, DSEK is a small incision surgery requiring only one or two temporary nylon sutures used to secure the wound.
Results:
Recovery from partial thickness endothelial keratoplasty (DSEK) is often faster than full thickness surgery with maximal visual acuity often achieved within 4–6 weeks. This small incision transplant surgery often requires only one or two temporary sutures usually removed within the first month. DSAEK patients also require eye drops postoperatively to prevent infection and rejection, as well as to manage inflammation. Again, glasses and /or contact lenses may be required in order to maximize vision after surgery.
Call our Skokie (847) 677-1631  or Highland Park (847) 433-5888
locations to discuss your options with Dr. LeBoyer.