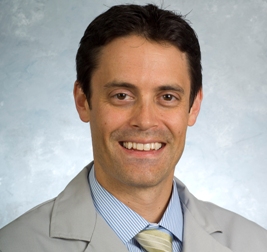 Russell M. LeBoyer MD, is a Chicago based fellowship-trained corneal and refractive surgery specialist. Raised in Highland Park, IL, Dr. LeBoyer graduated with a Bachelor of Science degree from University of Michigan in Ann Arbor, MI.  After receiving his medical degree from Rush Medical College in Chicago, IL, Dr. LeBoyer completed a pre-residency fellowship in ophthalmic pathology and research from the prestigious John Moran Eye Center in Salt Lake City, UT.  His training in ophthalmology continued with residency at Tulane University in New Orleans, LA.  Following the destruction of Hurricane Katrina, Dr. LeBoyer finished the last two years of residency training in ophthalmology at Indiana University in Indianapolis, IN where he served as chief resident.  He followed his residency with a subspecialty fellowship in cornea and external diseases and refractive surgery at the Kellogg Eye Center at the University of Michigan in 2008.
Dr. LeBoyer has been published in many of the top ophthalmology peer-reviewed journals and presented at annual ophthalmology conferences.  He is a board-certified by the American Board of Ophthalmology and a member of the American Academy of Ophthalmology.  He has interests and experience in treating Keratoconus, dry eye disease, corneal infections, dystrophies and tumors.  Surgically, he has been trained in small incision cataract surgery as well as many types of corneal transplants including (DSEK) Descemet's Stripping Endothelial Keratoplasty, the artificial cornea or keratoprosthesis and limbal stem cell transplantation.  He also has experience with refractive surgery procedures such as LASIK with Intralase, PRK, LASEK, and phakic intraocular lenses.
Dr. LeBoyer has staff privileges at all the Northshore University Health Systems hospitals, St. Francis Hospital in Evanston, IL and Swedish Covenant Hospital in Chicago, IL.
For further questions , call our Skokie office at 847-677-1631 to schedule an appointment with Dr LeBoyer!