Neuro-ophthalmology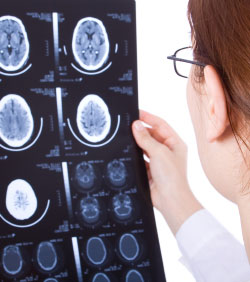 Neuro-ophthalmology addresses the relationship between the eye and the brain.  Dr. Andrew Berman is a fellowship trained neuro-ophthalmologist who provides comprehensive clinical care to a broad spectrum of patients.  His is regarded as one of Chicago's top eye doctors specializing in neuro-ophthalmology.  He sees patients in both Skokie and Highland Park offices.
Neuro-ophthalmic Symptoms:
visual loss
visual disturbance
double vision
unequal pupils
eyelid and facial spasms
droopy eyelid
Common neuro-opthalmaic disorders:
Optic neuritis
Ischemic optic neuropathy (including temporal arteritis)
Compressive optic neuropathy (including pituitary tumors)
Papilledema (including pseudotumor cerebri)
Inflammatory and infectious optic neuropathies
Cerebrovascular disorder involving vision
Brain tumors involving vision
Blephrospasm (including botulinum injections)
Hemifacial spasm (including botulinum injections)
Thyroid eye disease
Myasthenia gravis
Ocular motor disorders (including cranial nerve palsies)
Pupillary abnormalities such as Adies pupil
Paraneoplastic disorders (including paraneoplastic retinopathies and optic neuropathies)
Hereditary optic neuropathies
It is helpful to please bring all medical records (doctor's notes, visual fields, etc.) and actual MRI and CT scans to your Neuro-Ophthalmology appointment with Dr. Berman. This will also reduce the likelihood of repeating previously performed tests.
Depending on the complexity of your condition, plan on spending at least 3 hours. In most cases, diagnostic services can be performed on the same day.
Call now to schedule and appointment with one of our Doctors.
Skokie location 847-677-1631 and Highland Park at 847-433-5888.